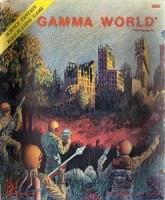 Gamma World
Gamma World takes place in the mid-25th century, more than a century after a second nuclear war had destroyed human civilization.
The war that destroyed civilization in Gamma World is only vaguely described in most editions of the game, and what details are provided change from version to version. The first two editions place a first nuclear war near the end of the 21st century, with the final war in the years AD 2309-2322, and ascribe the final annihilation to a terrorist group called "The Apocalypse" and the ensuing retaliation by surviving factions. Later versions would radically alter the reason for the collapse. The 2000 Alternity version is die to alien arrival and nuclear response. The 2003 d20 Modern iteration is due to rampant use of nanotechnology and AI. The 2010 edition introduces a radically different comedy backstory that attributes the destruction of civilization to the activation of the Large Hadron Collider, which caused multiple realities to exchange features in an event known as "The Big Mistake". All editions, however, agree that the cataclysm destroyed all government and society beyond a village scale, plunging the world into a Dark Age. In many editions of the game technology is at best quasi-medieval (in the first edition, the crossbow is described as "the ultimate weapon" for most Gamma World societies). Some, such as the 2003 and, to a lesser degree the 2010 edition, feature advanced technology that is well known and often easily available. Whereas earlier editions had ancient super-science artifacts as risky to use due to the average Gamma World character not knowing how to properly operate such devices. Or not even knowing what the device is at all. The post-apocalyptic inhabitants of Earth now refer to their planet as "Gamma World" (or "Gamma Terra" in later editions).
Add a Review for "Gamma World"