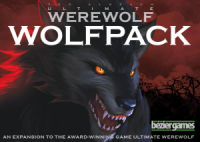 Ultimate Werewolf: Wolfpack
Who are the most famous werewolves in the world? Better yet, how about the most famous *wolves* in the world? Ultimate Werewolf: Wolfpack has them all and in ways you'd never expect.
This expansion for Ultimate Werewolf has six new roles for your werewolfing fun. Think werewolves are too meek? That's because your villages have never had The Big Bad Wolf, who leads the werewolves to eliminate villagers twice as fast while he's in the game. On the opposite end of the spectrum is the terrifyingly-confused Fruit Brute, who is, of all things, a vegetarian. Elizabeth Taylor was pretty scary as Martha the crazy socialite, but every game you'll want to know who in your group is actually afraid of Virginia Woolf. And there's three more famous wolves, including one that totally coincidentally shares a name with one of the X-Men.
This expansion is compatible with Ultimate Werewolf (black backs). This expansion is included in the Ultimate Werewolf Deluxe Edition.
Add a Review for "Ultimate Werewolf: Wolfpack"