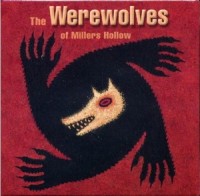 The Werewolves of Miller's Hollow
Can you find the werewolves before it's too late?
The tiny hamlet of Miller's Hollow is beset by monstrous enemies hidden in their midst. Organize the townsfolk and uncover the evil in disguise, so that you can kill the beasts before they claim the entire town, and bring eternal silence to the town forever. Distrust and suspicion run rampant – can you root out the werewolves and save your town, or will you accidentally murder your neighbors in this desperate hunt?
Each of you will become one of the residents of the ill-fated town of Miller's Hollow. Star-crossed lovers, the police captain, and the hunters can all help hunt down the wolves, with help from the town psychic and a particularly nosy little girl. Convince your friends that you're human, or you may wind up lynched by the very townspeople you fight to protect. And if you actually are a werewolf, band with your fellow monsters to pick off the frightened townsfolk one by one, until the town belongs to you and you alone!
The Werewolves of Miller's Hollow is a party game for eight or more players. Featuring evocative art and social play, the game will have you bluffing, arguing and outright lying to cover up your identity and reveal the true monsters before you join their hideous ranks!
Add a Review for "The Werewolves of Miller's Hollow"