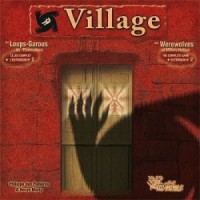 The Werewolves of Miller's Hollow: The Village
Return to Miller's Hollow for the biggest wolf hunt yet!
The town of Miller's Hollow is under attack from an enemy hidden in their ranks. Every night, the werewolves devour another of the innocent townsfolk, and by day, the survivors must root out the monsters and lynch them to prevent the spread of their horrible curse. Try to see through the web of lies and suspicion to find the real villains, and bring them to justice before the town is left empty and dead.
The Village is a standalone party game where every player is a member of the town. Most are hunters or elders, nosy children or passionate lovers – but some of you will be the dreaded werewolves, monsters intent on kidnapping and killing every human being in Miller's Hollow. You will have to convince the townsfolk of your innocence, all while avoiding the murderous intent of the werewolves. Bluffing and deception, misdirection and manipulation will be your only weapons in this battle for survival.
The Village is an upgraded version of The Werewolves of Miller's Hollow, a party game for eight or more players. It features all the characters from the original game, plus ten new occupations and buildings to house them. Up to 29 players can join the fun, and modular rules let you add or remove elements to play exactly the game you want. With new buildings adding all new dimensions to the game, The Village is the ultimate party game of deception and suspicion. Throw a party, and eat some new friends!
Add a Review for "The Werewolves of Miller's Hollow: The Village"