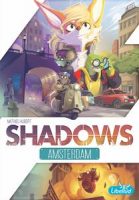 Shadows Amsterdam
Follow the clues. Solve the case.
Amsterdam, nowadays.
An offense was committed. Over the last days, the police investigation languished. Your detective agency is required to speed it up, but your main rivals are also sent on the case.
In Shadows, each detective team drives around the city to find three clues then bring them back to its sponsor, before the other team. In each team, an informer sends visual tips to discreetly direct its detectives as fast as possible.
Shadows is a fast deduction game for all kind of players. From short rules and simple gameplay, feel the tension of the real-time competition.
Important! To complete the investigation, stay out the way of the police...
Add a Review for "Shadows Amsterdam"