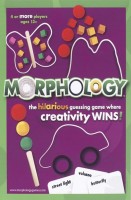 Morphology
Morphology is a fun, creative and challenging party board game combining simple shapes, your imagination and creativity. Using wooden sticks, glass beads and colored cubes how would you create a "butterfly" or "airplane". Now try doing it with your eyes closed or using only the string. Morphology takes unique twists and turns, and has everyone laughing out loud.
A new twist on a classic party game that's perfect for the whole family! Draw a word from the deck of cards and "build" the word using the bits and bobs provided--string, colored blocks, marbles and more! The real challenge comes when you are forced to build with your eyes closed, with only one hand or limited to string only. Can your family and friends guess what you built?
Add a Review for "Morphology"