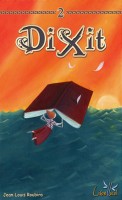 Dixit 2

Dixit 2 makes Dixit even more fun! The multi-award winning party game returns with an 84 card add-on. Allow yourself to be caught in their spell and be transported on a new voyage of discovery. Dixit...a surprising, exciting, and evocative game to be enjoyed with friends and family alike.
Features:
More cards!
More stunning artwork by Marie Cardouat!
More challenges!
More fun!
Add a Review for "Dixit 2"