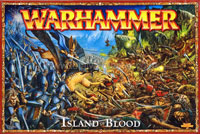 Warhammer: Island of Blood
The Island of Blood Warhammer boxed game has everything you need to start playing Warhammer, containing two complete armies ready to assemble and put straight on the battlefield. Amongst the two armies you'll find all the troop types in Warhammer, with infantry, cavalry, monsters, heroes and wizards all represented.
The Island of Blood offers a full, exciting Warhammer gaming experience as you and your opponent can delve into all the rules and tactics Warhammer has to offer. Also included in the set is a full-colour rulebook that contains all the information you'll need to play games of Warhammer.
Add a Review for "Warhammer: Island of Blood"