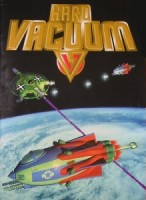 Hard Vacuum
The Space Corps Wants YOU!
Eddie Rickenbacker's Space Corps battle Von Richtofen's Nazis in the hard vacuum of 1940's outer space!
Kick the tires, light the jets, and roar off into the hard vacuum of 1940's outer space! Fly a Nazi spaceplane or a Space Corps rocketship in the battle for orbital supremacy. Escort supply envoys, run combat space patrols, even do a little reconnaissance. Do you have what it takes to become an atomic-powered Ace?
Hard Vacuum is a tactical game of WWII space combat in a world that should have been. The Hard Vacuum rulebook is a complete game—just add dice.
The Hard Vacuum rulebook includes:

Special introductory rules that get you into the action in ten minutes or less!
A simple, intuitive, fast-playing movement system that handles both realistic spaceflight and simultaneous action!
Rules for play on a hexgrid or tabletop, with miniatures or cardboard—you decide!
A combat system that covers everything from machineguns to atomic death rays!
Five Allied spaceships and five German spaceships, plus rules for designing your own!
A historical time line describing the WWII that never was!
Add a Review for "Hard Vacuum"