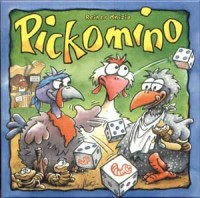 Pickomino
"Heckmeck am Bratwurmeck" (Pickomino) is a cult dice game for shrewd fowls that have smelled the "barbeque worm".
Roasted worms are a bird's delight. On one hand this is due to the fact that worms are the favourite dish of all poultry. On the other hand, the preference for barbecue worms is nobody else's doing but of Johnny Rooster Roaster. His Uncle Sam, a native from Chickentown Kentucky, had the idea to open up a worm roasting house at each corner of town. Johnny didn't hesitate to make this idea a reality and since their first days as worm-barbecue masters their roasting joints have found no lack of eager and famished customers. And the customers keep coming. All over the place, chicken folk have started to gather worms and supply them to Johnny.
Whether Curry Worm, Roast'n Worm or Frankfurter Worm: poultry of all sorts are standing in line to taste one of these specialties. For Johnny and his new found business the following stands: from worm hunter to millionaire!
Add a Review for "Pickomino"