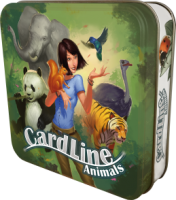 Cardline: Animals
What is your guess? Does the giraffe weigh more than the walrus?
Players will challenge themselves and their friends in testing their logic and memory skills while trying to place in order either the size, weight or lifespan of the animals. With each card played the game gains in complexity and is guaranteed to teach something new to all. The winner is determined by the first player to successfully place all of their cards during a round.
Features

High level of replayability.
Easy to learn.
Wonderful artwork on all of the cards.
Add a Review for "Cardline: Animals"