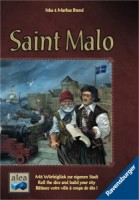 Saint Malo
The walled city of Saint Malo is a seaside perch with a prime location for trade and growth – and a tempting target for plundering pirates. Players must make strategic purchases and additions as they simultaneously populate and protect the city in this Stefan Feld Eurogame of skill and chance.
Can you build the most prosperous city and keep it safe from pirates? Roll the dice and then strategically choose what to draw on your erasable game board. Will it be a market place or houses; a nobleman or a solder? Easy to learn and fun to play combination of stategy and luck of the dice.
How to Play:
1. Players take turns rolling a set of 5 dice up to 3 times to determine their best moves. Choices have consequences – build a market and earn money, add walls and protect your city. Watch out for the crossed swords – roll those too many times and pirates will invade!
2. Once the move is determined, it is added to that player's city and the corresponding actions taken – roll a person, choose to add an architect to your city, purchase logs, subtract coins from your bank for the purchase, and add the house to your city. That player then tallies any points earned from his or her additions on the included wipe-off board.
3. Play continues until one player has completely filled his or her city. Victory points are totaled and the player with the most points wins the game!
Add a Review for "Saint Malo"