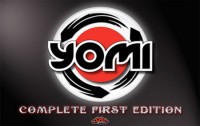 Yomi: Complete First Edition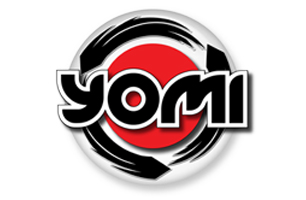 COMPLETE FIRST EDITION
Yomi: Complete First Edition comes with all 10 character decks, each with their own artistic tuck-box and 1-page rules insert. Yomi cards are printed on the the flexible type of stock used for playing cards, and they have playing card coating. This makes them more durable, better for shuffling, and gives them a similar tactile feel to playing cards.
In addition to the 10 decks, you also get an expanded 8-page rulebook with an extra rules FAQ, and two large playmats with integrated life counters, along with acrylic beads to track your life total. The playmats let you keep your cards clean no matter what surface you play on, they help you keep track of life totals without needing pencil and paper, and they show off some pretty sweet art.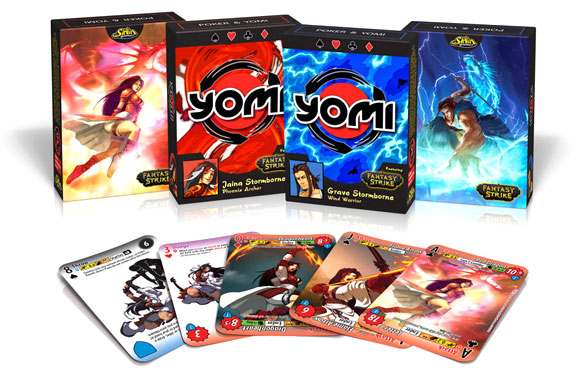 WHAT IS YOMI?
Yomi is the Japanese word for "reading," as in reading the mind of your opponent. Yomi: Fighting Card Game is a simple competitive card game that simulates a battle between two characters. Each deck in Yomi represents one character and can also be used as a regular deck of playing cards with beautiful artwork.
Champion fighting game tournament player and game balancer David Sirlin designed the game to test the two most important skills in competitive gaming: Valuation and Yomi. Valuation refers to your ability to judge the relative value of moves (or cards) as they change over the course of the game. Yomi, the game's title, refers to your ability to guess which moves your opponent will make. There is more to it than guessing, though: some players have the uncanny ability to "guess" right almost every time, no matter the game.
10 CHARACTERS
There are 10 different decks in Yomi, each one represents a different character. Decks have 52 cards + 2 jokers + the Fantasy Strike character's card. Try out several to find the playstyle you like the most. All characters are balanced well enough that any can win a competition. Exploring the 55 different character matchups is where a lot of the fun and depth come from.
PLAY RIGHT AWAY
Yomi decks come pre-built, each with strengths and weaknesses. Just get two decks and start playing right away. Also, the decks don't change over time so if you learn the game once, you can play it for years without worrying about your practice going to waste.
GAMEPLAY
The basic gameplay of Yomi is a special kind of paper, rock, scissors. Each turn, you play your move as a face down card simultaneously with your opponent. You then reveal the cards to see which player landed a hit; attacks beat throws, throws beat blocks/dodges, and blocks/dodges beat attacks.
You get a different bonus depending on which of the four movetypes you win with, so the payoffs for the paper, the rock, and the scissors are all different. By knowing your opponent's personality, you can guess whether he will tend to play it safe often, or go for big combos at every opportunity.
Add a Review for "Yomi: Complete First Edition"