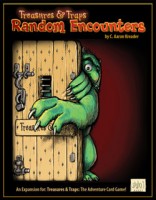 Treasures and Traps: Random Encounters
In this distinct expansion we introduce a powerful new class of cards. The box includes these 13 special cards, 2 custom dice for their use, and a set of rules to show how they are used.
In addition, this expansion is housed in a larger box ready to hold all your Treasures & Traps base game cards, rules, Random Encounters, Expanded Realms 1 & 2 cards, and dice (the base game box was not large enough to hold everything).
When drawn, Random Encounters cards are played directly into the wild lands. From there, they can be defeated by any player. The first player to defeat the card gains an ability as stated on that card. These abilities may expand your hand, allow you to search for treasure, gain powerful bonuses against creatures, and much more.
Add a Review for "Treasures and Traps: Random Encounters"