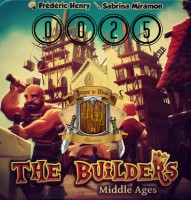 The Builders: Middle Ages

In The Builders, the cards represent buildings or workers. Players score points (and gain money) by completing the construction of buildings, while placing a worker on a construction site costs money.
Each building has four characteristics (carpentry, masonry, architecture, tilery) rated between 0 and 5, and the workers have the same characteristics valued in the same range. To complete a construction, the player must add enough workers to cover the four characteristics of the building.
The goal is to get to 17 victory points by building and assigning workers to those buildings to get points and money. At the start of the game each player receives 10 ecu and an apprentice. five buildings and five workers are placed open on the table. The deck of buildings and that of the workers are set aside for later.
On a players turn you can take three free actions and pay 5 for each extra action. the choices are:
Open a Site: take a building out of 5 available and place it in front of you. Draw a new building from the deck so 5 are available again.
Recruit a Worker: pick a worker from the row and draw a new one.
Assign a Worker to a Building: you have to pay its wages. each building needs resources and each worker gives a small amount of resources. Whenever the buildings needs are met you get the points and coins indicated and flip the building. all assigned workers become available again.
Get Money: 1 action 1 money, 2 actions 3 money, 3 actions 6 money. At the end of the game 10 money gives 1 point.

There are also some machines in the buildings deck that when completed become workers with resources and points. whenever a player hits 17 points the end is near. all players take one more turn so everybody gets an even amount of turns. all points are counted including points for leftover money. the player with the most points wins.
Add a Review for "The Builders: Middle Ages"