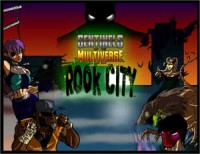 Sentinels of the Multiverse: Rook City
Expansion Overview
Rook City is the first expansion to the Sentinels of the Multiverse card game, and provides several new game mechanics like indestructible cards and irreducible damage. It also introduced the "H" icon, which effectively scaled the game for different numbers of players (which has since been incorporated into the Enhanced Edition). Most notably, "Mr. Fixer" and "Expatriatte" join the ranks of the heroes. Four new Villains appear: "Plague Rat," "Spite," "The Matriarch," and "The Chairman." And two new environments: Pike Industrial Complex and Rook City itself. Let's break it all down.
Heroes

Expatriette
Guns, ammo, guns and more guns. Expatriette uses her lightening quick reflexes and amazing arsenal to inflict heavy damage on baddies. The key ammo and gun combos make Expatriette an easy first time hero to play.
Check out her story here >
Mister Fixer
Martial arts and hand to hand combat may not seem powerful at first, but Mr. Fixers deck builds with each Ongoing effect played. Unlike some heroes that might run out of ammo, Mr. Fixer's deck seems to amplify like the rising tide as the game continues.
Check him out here >
Villains

Plague Rat
This vicious vermin attacks heroes with toxic damage and seeks to infect them. Heroes who become infected begin to gain damage each turn and the damage snowballs from there. Heroes may also attack other heroes as their minds start to unravel from toxic poison.
Learn more about this villain >
Spite
A drug head and serial killer on the loose, this villain uses innocent bystanders to create havoc amongst the heroes. The heroes must save the victims by getting them to a safe house. Not an easy task as he relentlessly stalks the innocent.
Learn more about this villain >
The Chairman
The Master of the underworld – this guy can't be touched, unless his underbosses and thugs are dealt with first. This deck offers two Villains in one, with a nasty female assassin watching his back. A tough challenge.
Learn more about this villain >
The Matriarch
An Avian Majesty, this wicked woman commands carrion fowl that can quickly overwhelm the strongest of heroes. Specializing in Psychic damage, the beating of wings will have the heroes running for cover. Another wicked workout.
Learn more about this villain >
Environments

Pike Industrial Complex
Vats of oozing liquid and dangerous infected lab rats. This is no place for your heroes to hang – especially when the vats blow! This Environment gets very toxic very fast. An intense challenge.
Learn more about this environment >
Rook City
These streets are crawling with all the wrong sorts of characters. Danger lurks around every corner. But who knows the heroes may meet a private eye or forensic scientist that will help their cause. Watch your back!
Learn more about this environment >
New Mechanics
Irreducible Damage simply can't be reduced by any affects, but it can be increased and redirected. Some of the dangers in Rook City are irreducible – making it a hazardous place to hang.
Indestructible cards are special cards that will stay in play and cannot be removed by any means till the end of the game. Spite's Villain deck employs several indestructible cards.
The "h" icon has been included in all cards in the Expanded edition and really takes care of one initial complaint with the first edition of the game: scalability. Now cards that deal damage take into account the number of players, easily creating a balanced and positive game experience for any sized hero group.
Final Thoughts
Rook City introduces to nasty Environments and two cool heroes who are relatively easy and fun to play, but it must be said that the Villains included in the expansion are worth the price of the expansion.The Chairman and The Matriarch are the toughest villains in the game, and only team of heroes that work perfectly together will survive their onslaught. The combination of escalating Infection from Plague Rat, and Spite's unpredictable drug induced crime sprees present an entertaining but achievable challenge. Rook City is where evil lurks, and the Villains in this expansion live up to that reputation. It will create an engaging test of cooperative and tactical play for even the best of Sentinels players. A must have if you are into the game.
Add a Review for "Sentinels of the Multiverse: Rook City"