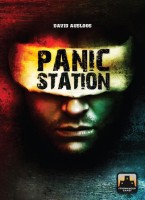 Panic Station
A team of heavily armed troopers enter a desolate army base. The collective mission: destroy the alien parasite that lurks within the darkness. Your team has only half an hour to locate the parasite hive and destroy it. But one member of your team has transformed into a host and will attempt to infect your team… one by one.
Panic Station is a paranoia-driven semi-cooperative game in which you control two characters in the Extermination Corps sent out by the government to investigate the presence of fiendish alien life forms.
However, one of the players will become a Host. He must keep this identity secret, infecting as many team members as possible to gain allies and prevent the humans from completing their mission. Only players who carefully watch the behavior of team members will stand a chance against the infected players and roaming parasites.
Panic Station is a game of growing paranoia in which no one can truly trust anyone. Can you maintain your sanity and destroy the source of this evil?
Players move both their Androids and Troopers through the base, exploring and gathering equipment that will help them to complete their mission: to find and destroy the Parasite Hive hidden somewhere in the inner depths of this doomed location. A player who gets his Trooper into the Hive and plays three gas can cards to fuel his Flamethrower wins the game for the humans.
Add a Review for "Panic Station"