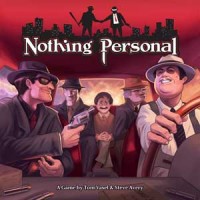 Nothing Personal
In NOTHING PERSONAL, players use their mob family's influence to control various gangsters in positions of power. Players compete to have the most influence on the different gangsters, and use those gangsters to increase their respect. In each turn of the game, players will play influence cards to fight for control of the gangsters. Gangsters provide respect to the controlling player as well as amounts of money - which can be used to further a family's goals.
Gangsters also have a variety of special abilities that can be used, including "whacking" other gangsters and making moves on other gangster positions. Players must be careful, though, as active gangsters can attract the attention of the Feds, and it's easy for a gangster to end up in prison - or dead. After five rounds, the player whose family has gathered the most respect is the winner of the game!
NOTHING PERSONAL is a game that allows players to make and break deals with others - a negotiation and backstabbing game. It is most certainly not a cooperative game!
Add a Review for "Nothing Personal"