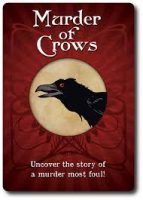 Murder of Crows (2nd ed)
The Crows Saw it All.
Who died, who did it, where it happened… even how it was done. Your job is to use the cards in your hand to piece together the facts and reveal the dastardly deed… spell MURDER and you've won! But beware, your opponents' goal is the same; steal their cards, counter their actions, or throw their investigation into disarray with a Wild Crow before they do it to you! At any moment a well-played card can shift the balance and seal someone's fate.
1st Edition vs. 2nd Edition
The 2nd Edition of Murder of Crows is an aesthetic upgrade to the original game. The cards are now tarot-sized, and Dungeoneer-creator Thomas Denmark's atmospheric art has been given more space to shine. We've also upgraded our packaging from a tuck box to a beautiful aluminum tin, as seen with Hounded and Lost in R'lyeh. We added some reference cards, and a two-player variant, but none of the rules have changed!
Murder in the Third
Murder of Crows 2nd Edition introduces the long-awaited two-player variant, The Murdered Third! In The Murdered Third, two living players vie to reveal their MURDER first, while contending with the random flips of a non-existent ("murdered") third player. If you own Murder of Crows 1st Edition, you don't need to buy 2nd Edition to enjoy The Murdered Third—the rules fit on a single card, which you can download for free!
Add a Review for "Murder of Crows (2nd ed)"