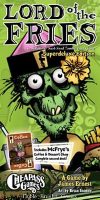 Lord of the Fries (4th edition)
Welcome back to Friedey's: Fast Food Restaurant of the Damned! It's pretty hard to get anything done around here, since everyone is dead. But don't let that worry you. As strange as it sounds, the dead can still assemble combo meals.
This is the fourth edition of Lord of the Fries, made possible by 1,349 backers on Kickstarter. Along with the core game, we also raised enough to produce four stand-alone expansions including Mexican, Italian, Irish, and Chinese restaurants, each with their own unique art, menu, and rules.
LORD OF THE FRIES was introduced in 1997. It's had four editions since then, including a rare collectible version in a Chinese take-out box, and a "hiatus" edition from our friends at Steve Jackson Games. The new edition blows all the others out of the water, with colorful menus and stand-alone restaurant expansions, complete with their own art and menus.
Add a Review for "Lord of the Fries (4th edition)"