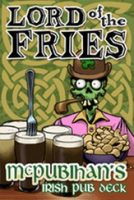 Lord of the Fries: Irish Restaurant
McPubihan's Irish Pub & Brewery
This stand-alone expansion for
Lord of the Fries
4th edition is set at McPubihan's Irish Pub Restaurant. The deck contains all new art and ingredients, with a new menu for 2 to 6 players, and instructions for combining the deck with the core game to create a deck that plays with up to eight players.
McPubihan's. Welcome to Friedey's Irish Pub, with drinks and pub grub to satisfy your every need. Try the Irish Breakfast, the Just Barley Soup, or the Brown Stuff in a Pot. The mechanics are essentially the same as the base game with the addition of the "stew pot" a collection of face-up cards created by a discard of a single card by each player after the initial deal. Players may, on their turn, exchange one card with one from the stew pot prior to filling an order.
Add a Review for "Lord of the Fries: Irish Restaurant"