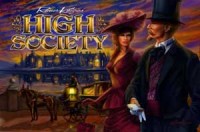 High Society
In High Society, count yourself among the most influential and wealthy citizens of the late 19th century. You start with a personal fortune in cash and spend it on ostentatious possessions and shows of status while attempting to avoid disaster.
Can you emerge victorious by amassing the greatest collection of possessions while still retaining more of your cash than at least one of your High Society rivals? This quick, multifaceted game creates a nail-biting auction experience, and one that will surely become a favorite edition for generations of game lovers.
Add a Review for "High Society"