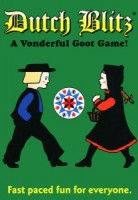 Dutch Blitz
A Vonderful Goot Game!
Dutch Blitz is such vonderful goot fun
For young folks — and old ones too.
Vhy you should see the vones who plays:
They gets in such a stew.
Easy to learn — exciting to play
For two or three or four.
And this for sure is vone such game,
That ain't gonna be no bore.
So now, sit down with your friend or kin,
And try this game to play.
Chust bet that vhen you get started vonc't,
You'll play for most the day!
What is Dutch Blitz?
Dutch Blitz is a highly interactive, highly energetic, family-friendly card game that will test your skills, smarts and speed.
It's the kind of game that makes your brain work really hard. But because you're having so much fun, you won't even notice. Perfect for parties and family game nights, Dutch Blitz has been a favorite of card players for decades — and it's more popular today than ever.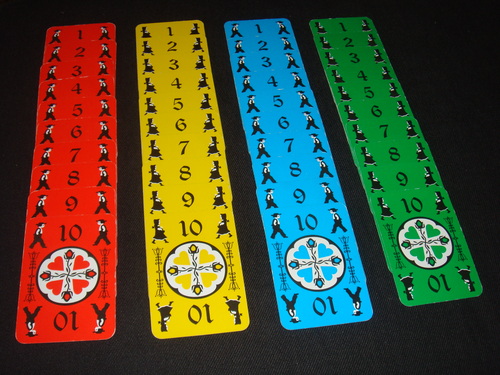 How did Dutch Blitz begin?
Dutch Blitz was the brainchild of Werner Ernst George Muller, a German immigrant and optometrist who thought the game might help his children more easily learn about colors and numbers.
We can't tell you whether or not Dutch Blitz accomplished that goal. All we know is that, somewhere along the line, Muller's game captured the imaginations of gamers throughout Eastern and Central Pennsylvania.
The game has since spread far and wide, and today, Dutch Blitz fans can be found in every corner of the world and can be purchased at more than 200 different locations in 11 different countries.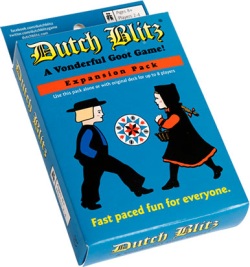 BGdot Note: The publisher released a blue-box Expansion Pack in 2012, which is designed to be played as a standalone game, or combined with the original for up to 8 players. The Expansion Pack is identical to the base Dutch Blitz game, saving only for the combination of colors and symbols distinguishing the cards. It will not be listed as a separate game.
 
Add a Review for "Dutch Blitz"