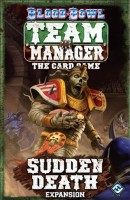 Blood Bowl: Team Manager – Sudden Death
Sudden Death is bone-breaking, pulse-pounding expansion for Blood Bowl: Team Manager – The Card Game that brings three new teams, new Contract payouts, new enchanted balls, and more! Enhance existing teams with additional Staff Upgrade cards and Team Upgrade Cards, and take the competition to new heights with never-before-seen Highlights and Spike! Magazine Cards. Meanwhile, all-new mechanics like enchanted balls and contracts provide a variety of new strategies. With all this, the Sudden Death expansion is sure to raise your spirits...and maybe a few others.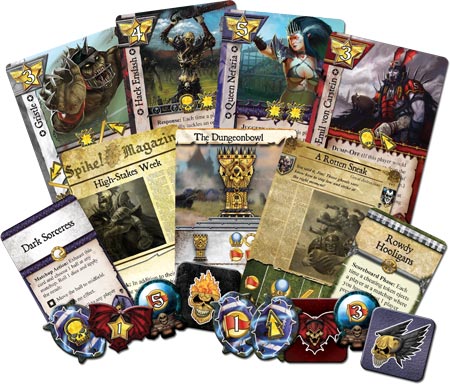 Sudden Death introduces three new teams to the skull-crunching action; the Dark Sorcery Syndicate union features dabblers in forbidden magics who just don't know when to stay down. The undead Champions of Death tear up the pitch – sometimes literally as they raise new zombies and skeletons from the corpses of former Blood Bowl players. The vampires of the Black Fangs are always thirsty for victory (and blood). And the Dark Elves of the Naggaroth Nightmares are happy to give both teams plenty of fresh corpses with which to play.
Sudden Death also introduces exciting new mechanics that expand the game's strategic options. Contract tokens are a reward that let managers gain fans in whole new way. Managers earn these tokens by competing for Highlight and Tournament cards that feature the Cabalvision Contract icon, and each token provides a different number of fans.
Add a Review for "Blood Bowl: Team Manager – Sudden Death"