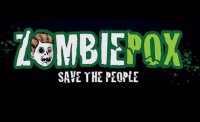 ZOMBIEPOX

A brand new evolution of Tiltfactor's POX: Save the People, ZOMBIEPOX challenges 1-4 players to stop an approaching zombie apocalypse by vaccinating the humans against ZOMBIEPOX. Cure those in the most dire situations and protect the vulnerable who cannot be immunized. We don't want zombie babies! Win the game if the deadly ZOMBIEPOX can no longer spread. Lose the game if too many people become full-blown zombies.
Players ages 12-65, and both casual and hardcore gamers have enjoyed ZOMBIEPOX. Players alternate drawing cards. Each card specifies how the ZOMBIEPOX spreads, and then which resources the player has to combat the outbreak. It's important to protect the vulnerable people on the board, because if they become infected, they immediately succumb to zombification.

Add a Review for "ZOMBIEPOX"