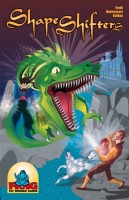 Shapeshifters 10th Anniversary Edition
When real wizards fight it out, they toss aside their spell books and get physical! Master the art of transformation, then face your enemies in a battle of brains and brawn. Choose from all the creatures in the animal kingdom, but beware — so do your foes!
Shapeshifters, Fat Messiah's first release which debuted in 1991, is a fast-paced boardgame of magical combat for 2-4 players. Secretly plot your transformations each turn, trying to outguess and outfight your enemies. Do you attack as a tiger, or will your opponent flee into the water as a manta ray? Can you escape as a lizard, or will you be hunted down by an eagle? Your magical energy is limited — do you use it all to become a dragon, or hide as a rat and renew yourself?
Run, fly and swim across the wilderness, flashing between forms, looking for the opening that spells victory. Are you ready for the challenge?
Master the art of transformation all over again with this expanded and updated edition of the classic design! Includes a complete reprint of the original plus extra goodies developed over a decade of convention events:
Two new battle maps — the Crystal Palace Vestibule and the Temple of Athena.
Three tournament scenarios with accompanying special rules, one of which includes a multi-round elimination system.
Full-color expansion counter set, doubling the number of players (up to eight) and adding special counters for use with the expansion scenarios.
These new elements strengthen the game's multiplayer mode, supporting up to sixteen players in a single scenario and creating even more opportunities for magical mayhem.
Add a Review for "Shapeshifters 10th Anniversary Edition"