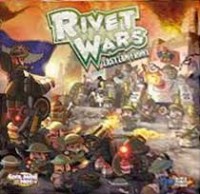 Rivet Wars

Rivet Wars is a miniatures boardgame that springs forth from the warped imagination of Ted Terranova - set on a world that never quite left World War I but with crazy technology like walking tanks, diesel powered armor, unicycled vehicles and armor plated cavalry!
Don't let the cute visuals fool you, it's a world full of angst, war-torn camaraderie and dark humor.
Add a Review for "Rivet Wars"