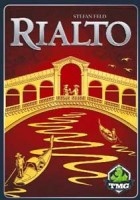 Rialto
In the card-driven board game Rialto, the goal is to earn the most victory points (VPs), which are awarded for a variety of things. The game board displays the six districts of Venice, and players earn VPs for placing council members into these, for building bridges and placing gondolas to connect the districts with one another, and for building advantageous buildings.
The game is played over six rounds, with each round consisting of three phases:Acquire cards: Each player takes a set of cards.Play cards: Players use cards to perform certain actions.Activate buildings: Players may take advantage of their buildings and use their powers.
Players collect VPs both during the game – from special buildings and by building bridges between districts – and at the end of it – for majorities of council members in each district. The value of each district evolves during the game: Each district is adjacent to four other ones, and at the end of the game, they will be connected either via bridges or gondolas. A bridge increases the value of the adjacent districts by 3-6 victory points, whereas a gondola increases this value by 1 point. The player with the most council members in a district earns VPs equal to the district's total value, the player with the secondmost council members earns half this value, and so on. While it's important to establish majorities in the districts, it's also crucial to control their values by cleverly placing those bridges and gondolas.
Add a Review for "Rialto"