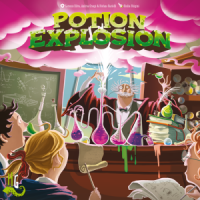 Potion Explosion
It's time for the final exams of the Potions class at the Horribilorum Sorcery Academy for Witty Witches and Wizards! The rules are always the same: take an Ingredient marble from the Dispenser and watch the others fall. If you connect marbles of the same color, they explode… and you can take them too! Complete your Potions using the marbles you collect, and drink them to unleash their magical power. Remember, though, that to win the Student of the Year Award, being quick won't be enough: you'll also need to brew the most valuable Potions!
In Potion Explosion players attempt to create potions by pulling colored marbles from a dispenser and matching them with the needed ingredients for the potions on the table in front of them. While basic turns are simple, clever players will strategically pull colored marbles that both fulfill a needed ingredient and cause matching colored marbles to stack up in a single column, allowing them to collect all the like colored marbles and save them for later turns. Potion Explosion's simple rules make it easy enough for the whole family to learn, but offers enough depth to keep puzzle game fans coming back for more.
Add a Review for "Potion Explosion"