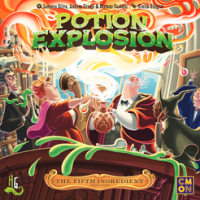 Potion Explosion: The Fifth Ingredient
It's never too late to add to your magical education, and
The Fifth Ingredient
expansion for
Potion Explosion
gives you a chance to go back to class and start learning some new tricks. Introducing Ghost Ectoplasm, you'll now be able to complete spells in an entirely new way. This incredible ingredient can be used as a replacement for any of the others. The Fifth Ingredient also adds Reward and Scolding tokens, new potions to complete, and Professor tiles. These new tiles will affect the rules of the game in little ways that could change your entire strategy. Use one of them for a little tweak to the regular game, or introduce a bunch for an entirely new experience.
The Fifth Ingredient
expansion ensures you'll be learning new tricks right up until the final bell sounds!
My dearest students, the most brilliant potion brewing masters in the whole world have joined our teaching staff for our new master classes. Some of them have a really playful attitude, I'm sure you'll have a lot of fun this year! On the other hand, some of them might seem a bit grumpy at first, but I'm sure you won't be demoralized by a good old scolding… you'll get to know how they like to get things done. You'll also learn to brew new potions, and to handle a new kind of Ingredient: Ghost Ectoplasm. Good luck!
Add a Review for "Potion Explosion: The Fifth Ingredient"