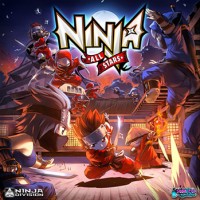 Ninja All-Stars

Ninja All-Stars is a new game coming from studio Soda Pop Miniatures, and published by Ninja Division.
Assemble your clans mightiest ninja and compete for honor and glory in the annual ninja games. The moonlight casts a pale light over the battleground as you compete with your team, earn experience, gain skills, and battle rival ninja clans in this league/campaign style game.
Featuring world class Chibi style sculpts from the world famous Soda Pop Miniatures team (makers of Super Dungeon Explore), expect fun and whimsical game play to be married with fantastic and unique style and fun.
Add a Review for "Ninja All-Stars"