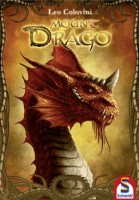 Mount Drago
The rocky path to fiery Mount Drago is steep and hard. It won't be easy to lead the wild dragons to the summit. The path is laced with big and small scores which become valuable winning points. However, it is not necessarily advisable to remain faithful to one dragon for a long time. It is often better to change dragons at the right moment. This is the only way to gain fame and honour in the end. If only the other players would not keep on thwarting your plans.
Ten dragons start the game on the first square of a movement track, with each space on the track bearing a number from -2 to 8. Four blue and three green scoring spaces are scattered on the track, and four summit spaces are found at the end of the track. Each player is dealt a hand of six cards, with cards coming in ten colors to match those of the dragons; each player also starts with a uniquely-colored card face-up on the table to indicate which dragon the player is riding.
When a dragon moves onto one of the four summit spaces, all dragons score points (possibly negative) for their riders. Once three dragons have reached the summit, the game ends after a final scoring, and whoever has scored the most points wins.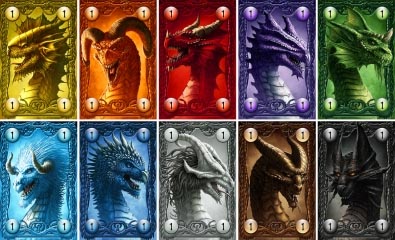 Add a Review for "Mount Drago"