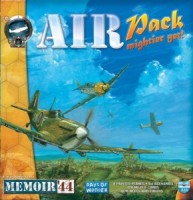 Memoir '44: Air Pack
From the Battle of Britain in the summer and fall of 1940, to the air bombing raids deep into Nazi territory and over Japanese cities in mid-1945 - the airplanes, pilots and the men and women who kept them flying, all had a profound impact on the outcome of the War and the bitterly fought ground battles thousands of feet beneath them.
The painted airplane miniatures that come with this expansion and the Air rules that accompany them invite you to climb in your seat, strap on your harness and take to the skies! Equipped with them, you will relive all the battles you've played to date, but with a twist; this time around, you will experience first-hand of how different a fight can be, when seen and fought from the skies!
Add a Review for "Memoir '44: Air Pack"