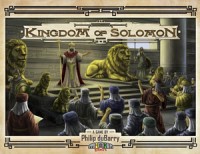 Kingdom of Solomon
King Solomon presided over a golden age of peace and prosperity in ancient Israel. During this time Solomon instituted an unprecedented building program. As one of Solomon's chief governors, you must procure materials and oversee construction of buildings and roads across the land for the glory of Solomon. You will also help to construct the Temple, one of the wonders of the ancient world.
Kingdom of Solomon is a worker-placement game with a few new twists and turns. Do you claim a resource space, an action space or throw in all your remaining pawns to grab a powerful Bonus Space? Will you spend your resources to extend Solomon's kingdom, take some points in the Market or add to the Temple? These and many other choices await you in this highly interactive game.
Add a Review for "Kingdom of Solomon"