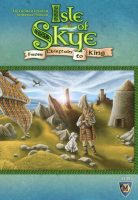 Isle of Skye: From Chieftain to King
Isle of Skye, one of the most beautiful places in the world. Soft sand beaches, gently sloping hills, impressive mountains: the landscape of Isle of Skye is breathtaking and fascinates everyone.
In this tile-laying game players are the chieftains of 5 famous clans. The players try to build their little kingdoms to score as many points as possible. But in each game only 4 of the 16 scoring cards will be scored. Each game is different and leads to different tactics and strategies.
And in the end the player with the best kingdom will become the sovereign of the island!
Winner of the UKGE and Kennerspiel 2016 Awards!!!
Add a Review for "Isle of Skye: From Chieftain to King"