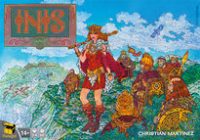 Inis
At the head of your ship, you eagerly search for any sign of land. As you peer through the dissipating mist, it finally gives way to the silhouette of cliffs—you have arrived at your new home. Now your clans can partake in a new era of prosperity. Rival chieftains also set sail for this same land, and soon the time will come to hold the Great Council and elect the High King of Inis.
Inis takes place during the height of the ancient Celts, when history and legend are one and the same. Players are chieftains leading their clans beyond the seas from Ireland to a newly discovered island. They settle the land, explore the surrounding area, harvest resources from the mines, and construct Citadels and Sanctuaries for their protection. Bards recount the tales of their gods and heroes, druids act as advisors, and master craftsmen immortalize Celtic civilization.
Each chieftain believes to have the most legitimate claim to the throne of this new island. Only time will tell who among them will ascend to become Ard-Ri, the High King of this new realm!
Add a Review for "Inis"