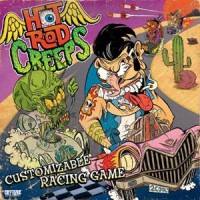 Hot Rod Creeps

Gentle-creeps…Start Your Mayhem!
In this customizable racing game, your Hot Rod Creeps team is your ticket to glory! Each team has its own special deck of movement cards and its own strategy. Customize your Hot Rod! Add a new Engine, Weapon, Pit Crew, or set of Wheels at a Pit Stop along the way. Customize your racetracks! Make them as wild and crazy as you want, with more than 50 interlocking track tiles. Everything you need for a race unlike anything you've ever see is included with Hot Rod Creeps!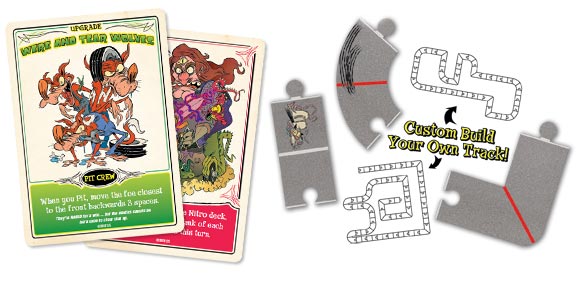 Key Features
There are six teams to choose from: Epic Battle Wizards, Monsters, The Underworld, Food Fighters, Aliens and Rockabilly!
Build your own track! Dangerous Curves, Pit Stops, "The Jump", and Hazards are but a few of the dozens of track pieces that allow you to create the track of your dreams… or nightmares!
Each Hot Rod has its own deck and its own unique strategy. Your deck doubles as your Gas Tank. Run out of cards and you run out of gas!
Players also have access to the powerful, but often dangerous, Nitro deck. Blaze a trail to the front of the pack, but watch out – you might get burned!
Customize your Hot Rod with cards like the Horrific Hamster Haven, the Black Plague Rat-apult, the Ketchup Mechanics, or the Clown Car Corner Clingers. Blast your opponents as you blow by them.
Add a Review for "Hot Rod Creeps"