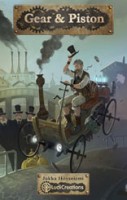 Gear & Piston
Remember the time when cars didn't have rubber tires, air conditioning, power steering? Of course you don't, and neither do we. It must have been an exciting time, the dawn of automobiles, an era of inventions and progress that would lead to road trips, drive-in movies, hot rods, KITT and F1 racing.
But how did we get there? How much sweat and steel did it take to bring us motorized transportation? Who were these automotive pioneers that shaped history? Well, you can read Wikipedia, or you can be one yourself!
In Gear & Piston each player builds an automobile prototype. Each turn the players plan their actions by taking turns to place their tokens and thus reserve actions in the various locations.
When the locations are resolved, the players take new or junk parts in their hand. They can also steal parts, ply the black market for stolen blueprints, and use unions to muscle each other out of the way. In the end of every turn, the players build a number of parts according to how quick they were to get back to their workshops.
Players need to balance how fast they build their automobile with how reliable it is. One can quickly cobble some junk parts together, or spend time on developing valuable new patents. In the end, two investors judge the prototypes and announce their decision on the winning design.
The game can be set up and explained in less than 10 minutes. A game for two players takes 20-30 minutes to play, with the duration increasing by 10 minutes per additional player.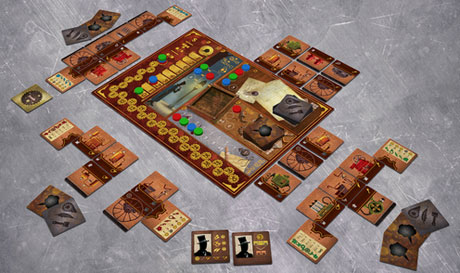 Add a Review for "Gear & Piston"