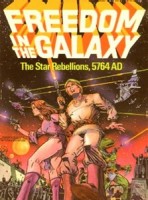 Freedom in the Galaxy
Freedom In The Galaxy is a medium complexity strategic and tactical game of galactic conquest. Can a small band a valiant rebels withstand the oppression of the mighty galactic empire?
The map board schematically represents over 30 solar systems. Unit types include armed forces, spaceships, imperial characters and individual rebels. The rebel play must start insurrections on various planets hoping to cause a domino effect and topple the empire's power base. The Imperial player must garrison planets, quash rebellion and conduct diplomatic missions to maintain a high loyalty factor. There are three levels of complexity to the game
Add a Review for "Freedom in the Galaxy"