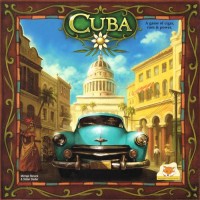 Cuba
Cuba is a strategic board game about booming trade in cigars, rum and exotic fruits.
Cuba prior to the revolution: Under turbulent circumstances, the villages of the island strive for independent wealth and influence. Who can buy and sell his products and goods on the domestic market profitably or take in the most on the trading ships? Who can send the right delegate to parliament in order to influence the government legislative process, or erect distilleries, hotels and banks at the right moment to the benefit of his village?
Whoever has accumulated the most victory points at the end of the game, wins. Players earn victory points by shipping merchandise from the harbor, but also by erecting and using buildings, and by abiding by the law.

Add a Review for "Cuba"