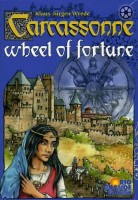 Carcassonne: Wheel of Fortune
A clever tile-laying game. The southern French city of Carcassonne is famous for its unique Roman and Medieval fortifications. The players develop the area around Carcassonne and deploy their followers on the roads, in the cities, in the cloisters, and in the fields. The skill of the players to develop the area will determine who is victorious.
This game is very similar to the original Carcassonne, but it adds the wheel of fortune, which gives players new options and adds fun to the game. It is a stand-alone game, not an expansion.
All expansions for Carcassonne are compatible with this game.
Add a Review for "Carcassonne: Wheel of Fortune"