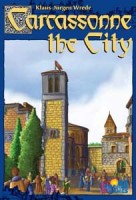 Carcassonne: The City
The impressive city of Carcassonne was a magnet for tourists from all lands even in the middle ages. Its large market, grandiose homes, and busy streets made the whole city a popular attraction. Here is your chance to build the city of Carcassonne! Players build walls and towers, found markets, and place followers in the normal way. At the end, you will all enjoy looking at the beautiful 3-D city you have built!
Carcassonne: The City is a stand-alone game.
Add a Review for "Carcassonne: The City"