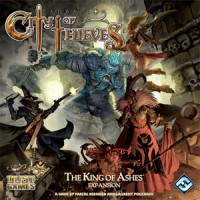 Cadwallon: City of Thieves – The King of Ashes Expansion
Thunder splits the sky as dark clouds gather above the free city of Cadwallon. The ground trembles, towers sway, and an earthquake of unprecedented violence wracks the City of Thieves! In the midst of the crisis, as bystanders flee the filthy streets, an entrance opens to a series of long-forgotten catacombs.
The guild intrigues of Cadwallon: City of Thieves grow even richer with the treasure trove of new adventures, characters, equipment, and Arcana in The King of Ashes expansion!
Rumors claim the newly-opened catacombs contain the legendary treasure of Sophet Drahas, and the thieves of the city above race to find entrance to these long-hidden catacombs and grab their riches. King of Ashes explores these catacombs with a new board and six adventures that can play independently or combined into a larger campaign.
Revised rules make the militia a more imposing force, and rules for experience, equipment, and mercenaries afford tremendous strategic options in your games, especially when you play them as part of a larger campaign.

Add a Review for "Cadwallon: City of Thieves – The King of Ashes Expansion"