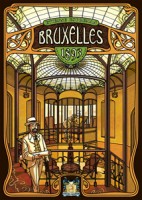 Bruxelles 1893
In Bruxelles 1893, you represent one of the famous architects who established the reputation of Art Nouveau in the Belgian capital. Your assistants help you perform actions such as the construction of Art Nouveau buildings, or creating the works of art that decorate these beautiful homes.
Constructing buildings allows you to fund your most beautiful masterpiece, shown on your personal board. It is also possible to develop your reputation as an architect, increase your influence at the Royal Palace or City Hall, and even benefit from Public Figures that you meet during your theater outings. The architect who garners the most fame in the form of victory points (VP) wins the game!
The action board is modular, with not every player having access to each action each turn. Some actions cost money – acquiring high-quality materials, building a level of your personal house, finding a patron, creating a work of art, selling that art for money and prestige – while other actions are free but can potentially cause you to lose one of your workers; these latter actions include acquiring low-quality materials, activating your patrons, visiting the stock exchange, and taking one of the actions with a cost. Once everyone has passed on taking more actions, the round ends and players have an art exhibition during which they can sell works. After this, players receive prestige points or bonus cards based on the symbols they've placed their workers next to on the action board.
After five rounds, the game ends and players score bonus points based on their architect level, their bonus cards, how well they've completed their work, and their money on hand.
Add a Review for "Bruxelles 1893"