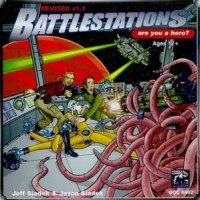 Battlestations
Simultaneous Ship to Ship Combat and Boarding Action simulator with light role-playing.
You and your friends each play the role of a crew member on a starship that faces whatever grief the referee throws at you. You'll blast enemies, pull outrageous maneuvers, unlock the secrets of alien cultures, and crank the last bit of juice out of an overtaxed engine while trying not to get yourself, your crew, or your starship blown to bits in the process.
Battlestations allows players to operate a star ship acting as the crew. Players can be a Marine, Pilot, Scientist or Engineer. They move about the ship drawing power from the engines and putting it into guns, shields and helm. They can fire missiles and cannons at enemy ships. The ship can be maneuvered through asteroid filled battlefields. Scanning for information and using electric counter measures are all part of the action.
Fight from a distance or close in and conduct boarding actions. Recreate major space battles, or challenge players by forcing them to fight off a pirate incursion with pistols and rifles.
Add a Review for "Battlestations"