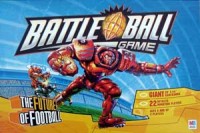 Battleball
Global football has moved beyond the restrictive rules of the US Football League. Physical enhancements have made the sport more intense and more deadly. Players have developed distinctive skills to overpower enemy players. Some are fast. Some are strong. All are out to eliminate their opponents.
Plan your strategy to get safely into the end zone. Your opponent will do everything he can to destroy your players and take possession of the ball. Can you overpower them and score a touchdown? Score two touchdowns and you'll be the Battleball champ!
Add a Review for "Battleball"