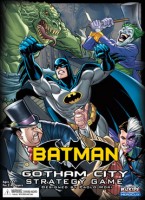 Batman: Gotham City Strategy Game
The Batman: Gotham City Strategy Game is a game for 2—4 players who will each take the role of one of Batman's iconic Villains— The Joker, The Penguin, Two-Face or Killer Croc. Players collect resources of Information, Money and Threat. Threat is used to exert your rule over blocks in Gotham City— control of blocks will allow you to collect an income on these blocks of either Information or Money. Money is used for leveling and to hire henchmen who will not only help you exert rule in blocks but also help you in fights against other Villains and Batman. Information is used for leveling and moving your Villain and henchmen through the blocks of Gotham City.
The Batman: Gotham City Strategy Game is a unique combination of Euro-style sensibility combined with the best elements of Ameri-trash theme and design. The core game mechanic is worker placement—placing your Villain, henchmen and Threat tokens to control blocks of Gotham City so as to produce the most income possible—overlaid with thematic elements that bring the stories and the characters of DC Comics Batman to life. The struggles by players for control of blocks—through resource placement or through face offs between Villains—make for a high level of player interaction.
Each Villain has their own strengths and weaknesses and play much differently from one another significantly adding to the replay value of the game. We are confident that fans of DC Comics Batman and fans of tabletop and strategy gaming alike will both appreciate and enjoy the Batman: Gotham City Strategy Game.
Add a Review for "Batman: Gotham City Strategy Game"