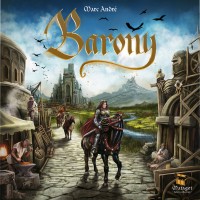 Barony
Designed by Marc André (Splendor), and illustrated by Ismaël Pommaz (Archipelago), Barony is a game in which players assume the role of one of four barons who, with their armies of knights, must colonize the most rich and fertile lands and defend them against the opposing barons. Each player strives to climb the stairs of power with the ultimate goal of becoming the new king.
The game is played by first randomly creating the board for varied play each time. Each turn, players will only choose one action from six possible actions, allowing for fast game play. These six actions are Train, Move, Rally, Build Village, New City, and Gain Title. Players will train knights, capture territories, and build upon various types of terrain that affect the types of resources gained. As players trade off different resources, they will gain titles, and the first player to attain the title of Duke triggers the end of the game. The player with the most points at the end of the game become king and is crowned the winner.
Add a Review for "Barony"