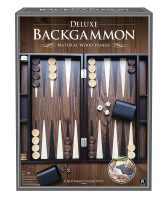 Backgammon
Backgammon is believed to have originated at around 3,000 B.C.E. in Mesopotamia in the Persian Empire which is the present day Iran, Iraq, and Syria. It is the oldest known recorded game in history, even older than Chess.
Backgammon is a game for two players, played on a board consisting of twenty-four narrow triangles called points. The triangles alternate in color and are grouped into four quadrants of six triangles each. The quadrants are referred to as a player's home board and outer board, and the opponent's home board and outer board. The home and outer boards are separated from each other by a ridge down the center of the board called the bar.
Add a Review for "Backgammon"