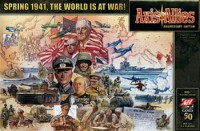 Axis & Allies 50th Anniversary Edition
Spring 1941, The World is at War!
Axis & Allies celebrates 50 years of Avalon Hill games with this Anniversary Edition of the classic World War II strategy board game. Designed by Larry Harris, A&A Anniversary Edition will utilize the standard D6 combat system found in Axis & Allies Revised, Europe, and Pacific. Italy will debut as the third Axis nation, China will be operated by the US player, and cruiser class ships will join the naval line-up for the first time. The largest board ever produced for an A&A game, along with deluxe components will ensure this is the granddaddy of all Axis & Allies board games. Deploy your forces and prepare for battle!

Add a Review for "Axis & Allies 50th Anniversary Edition"